By Bill Fields | Jul 5, 2016
Special to espnW.com
SAN MARTIN, Calif. -- When Michelle Wie won the 2014 U.S. Women's Open at Pinehurst No. 2 Course, overcoming a hiccup on the 70th hole to become a major champion after plenty of chances, the conventional wisdom was that her victory would not only be a highlight, but a booster rocket to a new career orbit.
The conventional wisdom was wrong.
Two years later, on the eve of another U.S. Women's Open, after multiple injuries and missed cuts, Wie is a struggling golfer merely looking for a peek of good form.
Wie doing well this week at CordeValle, located about 45 minutes south of her alma mater, Stanford University, would be a feel-good story. But there aren't many reasons to feel good that such a plot will develop.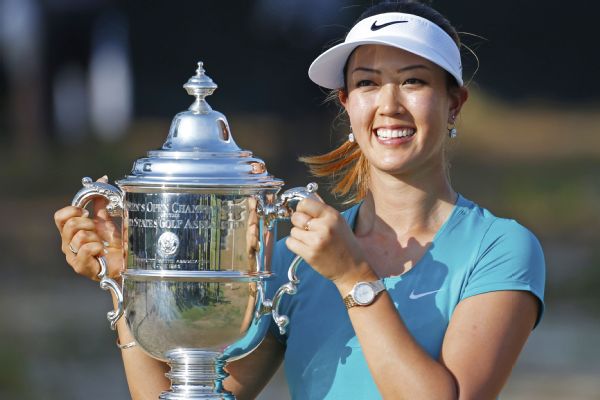 AP Photo/John Bazemore
The 2014 U.S. Women's Open remains Michelle Wie's only major championship, one she calls "a dream come true."
Sure, she is inspired by a return to the Bay Area. Yes, she says her health is better. True, she was 11th in last year's Open despite having to limp around Lancaster Country Club because of a bad ankle and hip. Any upsides, though, are offset by cold, hard golf facts.
Wie hasn't had a top-10 finish in her past 40 tournaments, since the final event of 2014, a year in which she not only won twice but had 11 other top-10s. Her ball-striking and putting have been poor. In 2016, Wie has broken 70 only twice, which goes a long way toward explaining why she is 113th on the LPGA money list with $50,767.
Since withdrawing after 15 holes of the final round when she was 11 over for the day at the Swinging Skirts LPGA Classic in April, citing neck spasms, Wie has missed the cut in five events and finished outside the top 40 in two others.
"The list goes on," Wie said of her litany of health issues. "It's just been tough, you know, last year with my hip and everything. I had to change my swing so many times. And that's just been the main thing with me -- I just haven't had a consistent swing that I can [use] and play pain free. I've been tinkering so much to try to figure out how I can play without pain."